Do you enjoy drawing but wish you had a way to make it MORE FUN and feel less like homework?!?
In this fun 5 day party...er...WORKSHOP, Artist and Author, Karen Campbell, teaches you how to draw and compile 10 different retro-themed drawing projects, from scratch!
For newbies, this week-long experience is a great way to get started on your creative journey if it's been decades since you last tried or if you're completely new to drawing:)
For experienced artists, this is a great workshop to help jog creativity, inspire you, and to learn expert ways on how to use references to create your own original art.
For all - it's just plain old-fashioned drawing FUN with creativity and daily prizes!!!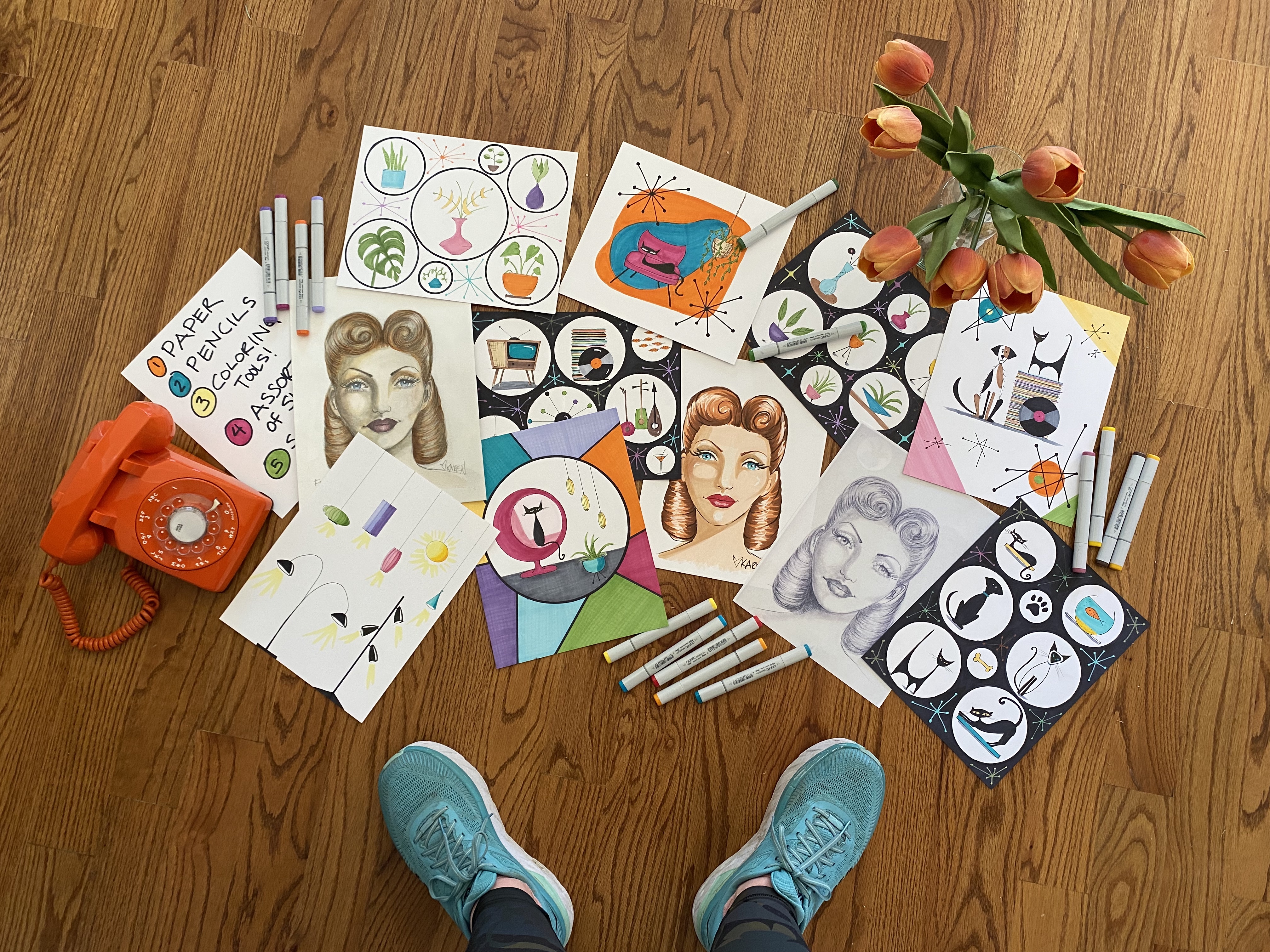 ONE Week, TEN Drawing Projects...
all in a fab RETRO style!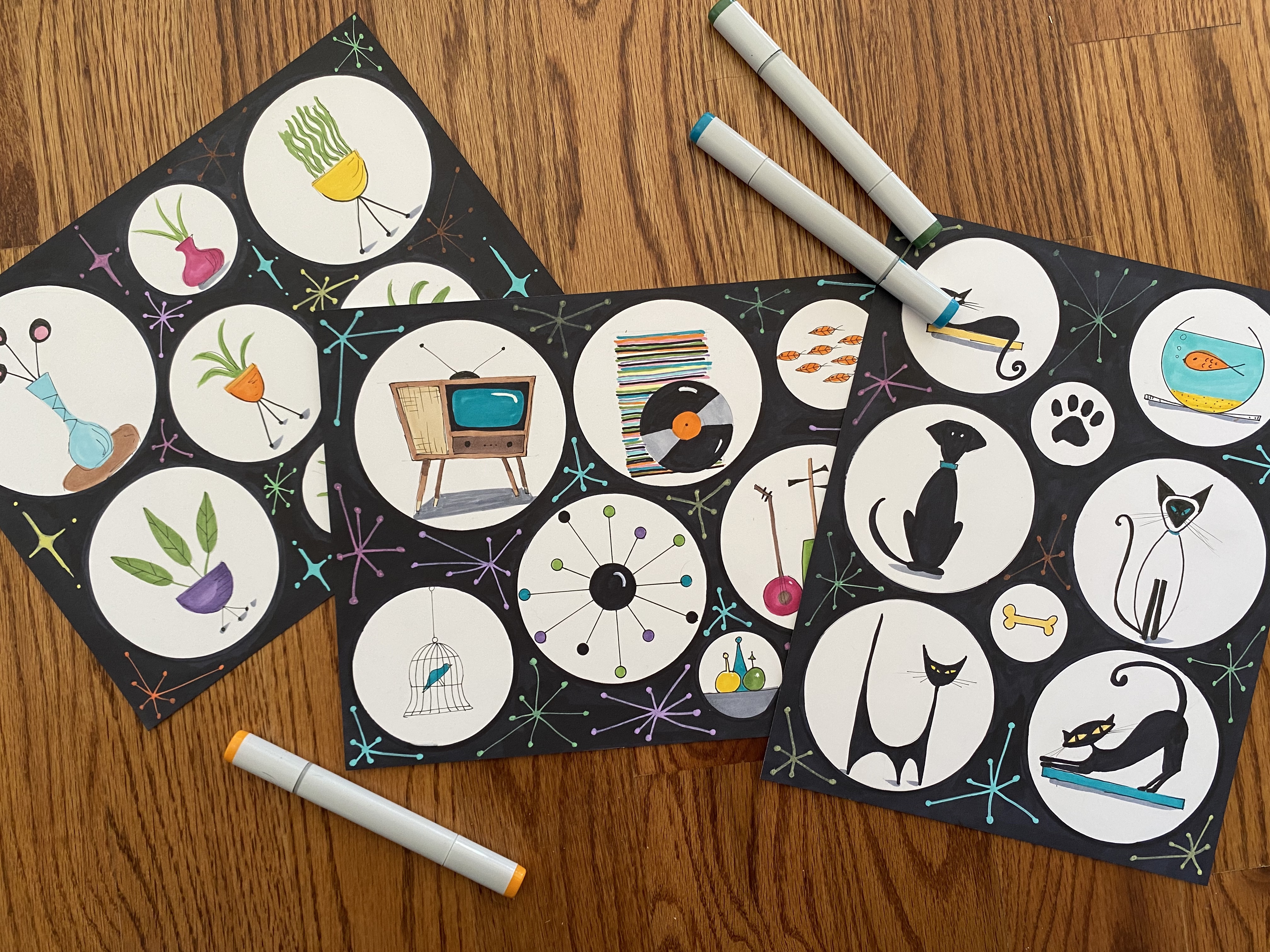 On Day 1 and 2 Karen will lead you through some SUPER easy and fun lessons where you'll create an entire Retro Library of retro-themed coloring pages!
From Plants to Pets, TVs to tunes, you'll be using this library to create your own unique works of art on Day 3!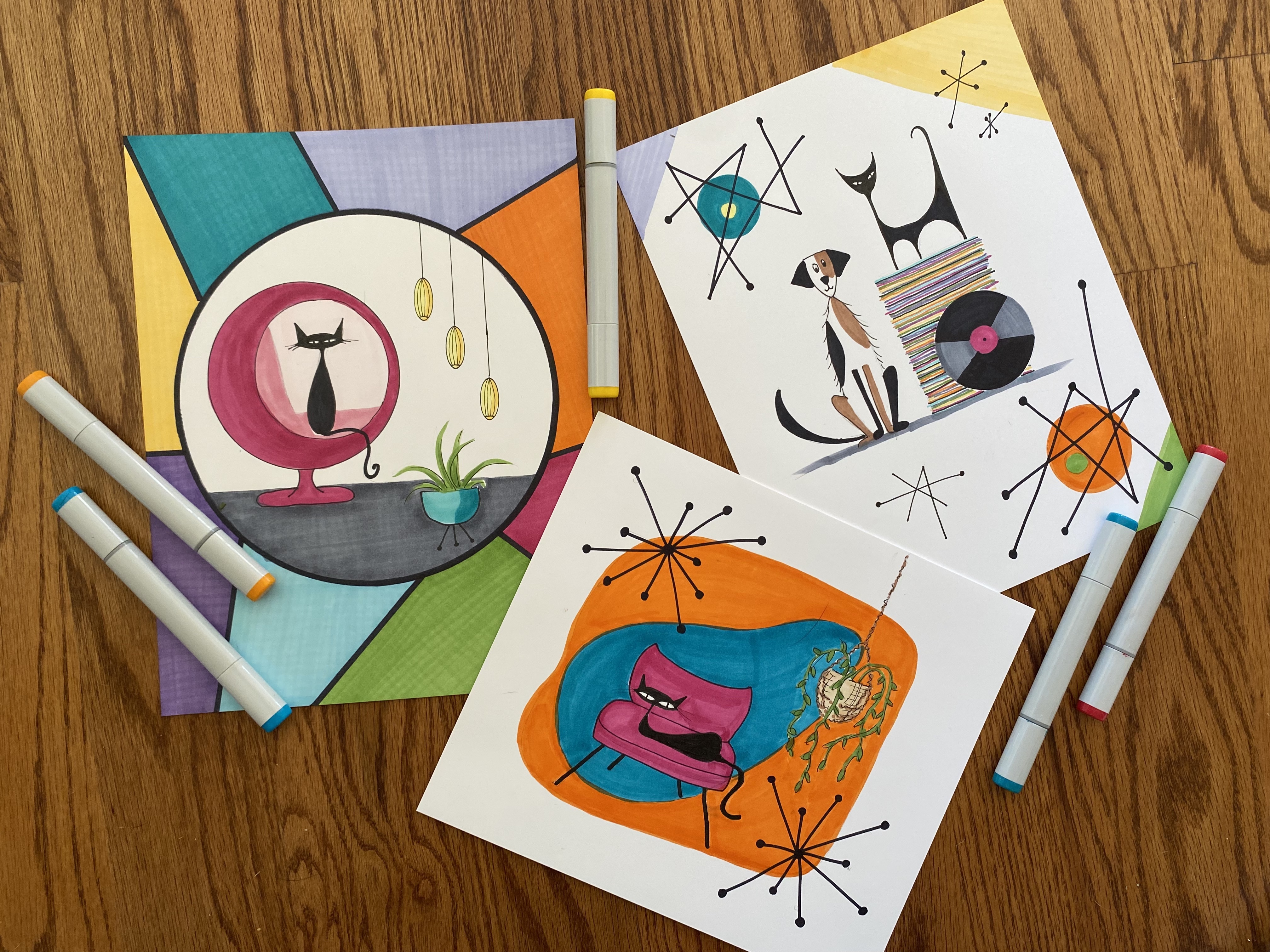 Karen teaches you how to combine the elements from your Retro Library sheets into your own original works of art!
You can follow Karen's lessons EXACTLY (after all, that's what they're there for!) OR you can use the composition and coloring lessons you've learned to create your very OWN one-of-a-kind pieces!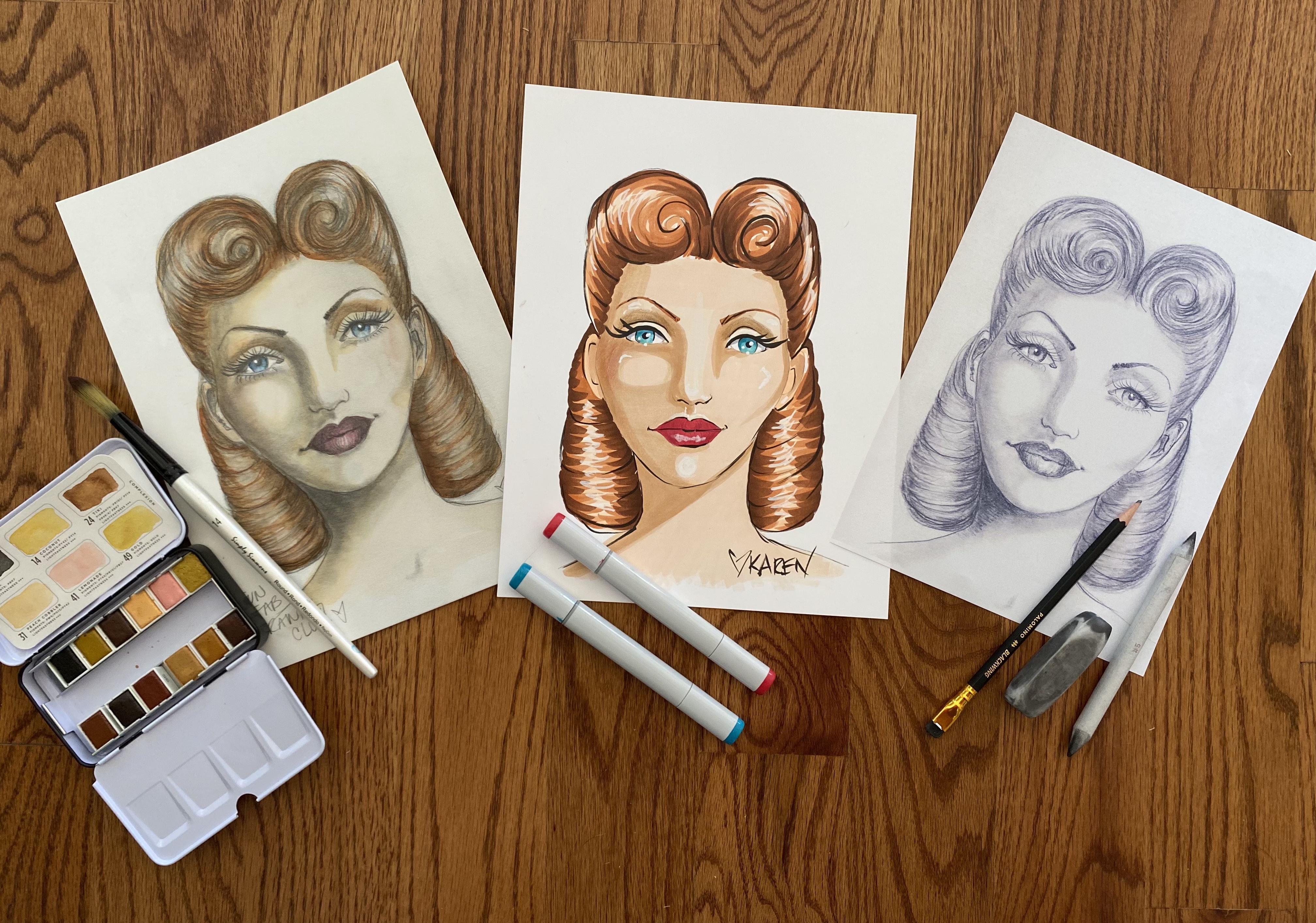 Karen walks you through step-by-step, how to draw, accurately shade, and color this 1940s Glamour Girl not 1, not 2 but THREE different ways!
At the end of the event, if you follow all the lessons, you'll have completed 10 WHOLE MASTERPIECES!!!
Not too much!
If you want to follow Karen EXACTLY for all 5 days you'll need a pencil, cardstock (or Bristol), alcohol and assorted paint markers, a slew of sharpies and some watercolors (and paper to go with).
Links to the exact supplies and colors are provided upon sign-up.
HOWEVER, Karen is a big fan of encouraging her students to use what they ALREADY have and love.
At bare minimum, paper, pencil and ANY coloring tool will be GREAT!
Colored pencils, pastels, watercolor pencils and markers, watecolors are all great and will all work!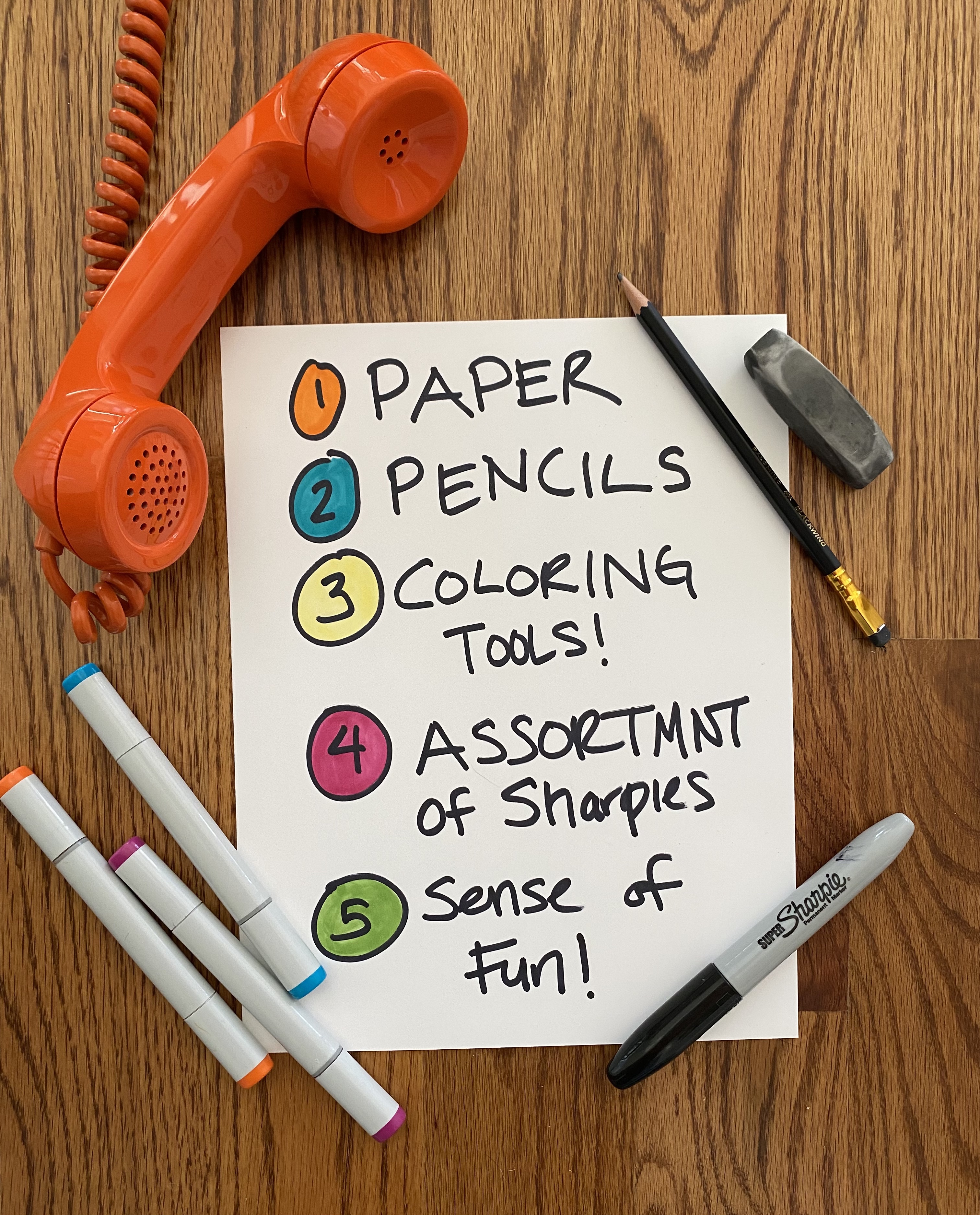 Daily Giveaways & Prizes!
To be eligible to win follow these steps:
(1) Each day when you get Karen's emails at 8 am ET each day, click the link to get to the daily lessons.
(2) Press play on the video lessons and follow along!!
(3) Post a photo of your completed projects in the Facebook Group when your done and add #retroparty to your post.
(4) Karen will hop on LIVE in the Facebook Group every single day at NOON ET to hang out, answer questions and choose one winner! Winners gets to choose their prize from a huge selection of books, t's, hoodies, pencils and totes!
You can enter to win up to 3 times a day!
ALSO: You do NOT have to be present to win. All winners will be contacted via email to arrange shipping :)
THIS IS NOT A CONTEST. Winners are chosen AT RANDOM so post your good, bad and ugly. It all counts and it's all good my friends!!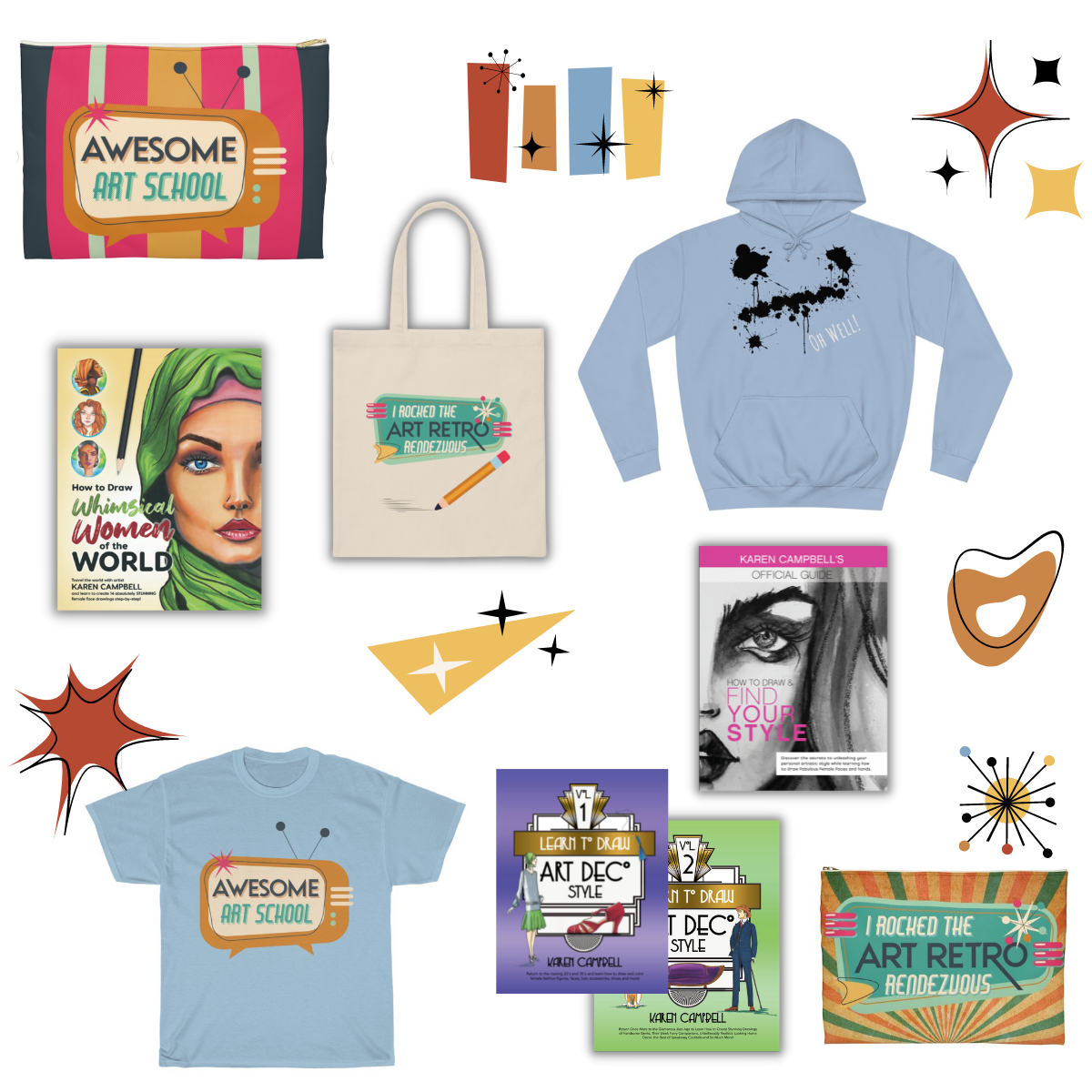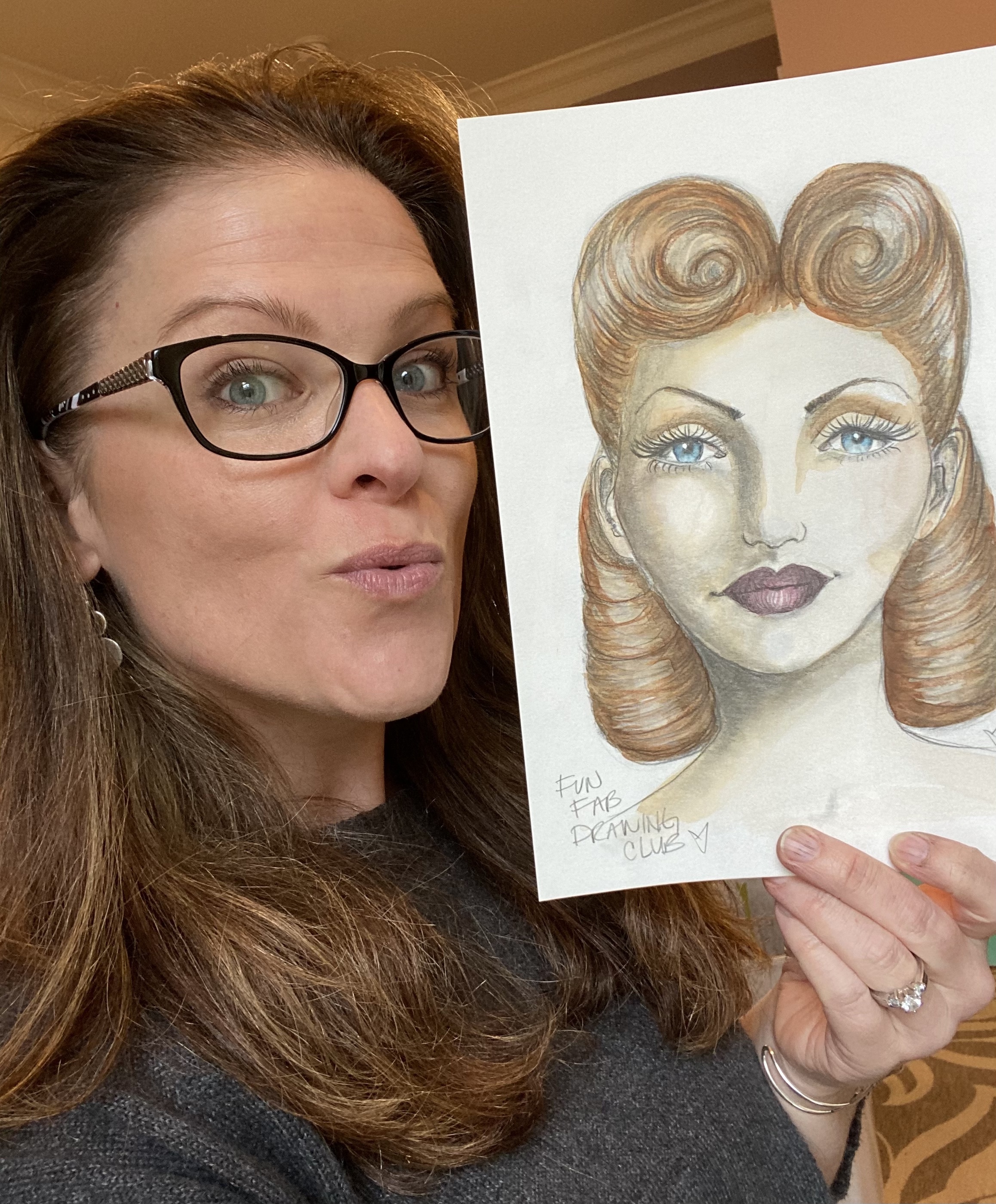 Karen Campbell is a full-time multi-media artist, instructor, business owner, author of 18 art instructional books, and has been featured in numerous worldwide publications.
She is the founder of Awesome Art School where she teaches online creative courses to adults of all backgrounds and ages and will be your creative hostess with the mostest all week long!
Originally a Boston area native she currently lives in Apex, NC with her computer-geek husband, 3 boys and 4 girl fur babies.
Karen's philosophy towards teaching art and the reason why her students are so successful is based on the fact that she is keenly aware that people learn BEST when they are so busy having fun they don't even realize the strides they are making.
As such, FUN is built right into the curriculum, making it incredibly easy and fast for students to advance.
Through her prolific and popular books, 3 awesome Art Clubs at Awesome Art School, and two YouTube channels which host over 400 free art tutorials, Karen has positively impacted the lives of tens of thousands worldwide of all levels.
She believes in fairies. For obvious reasons.
Frequently Asked Questions:
Question: Do I need to be able to draw to participate? I literally cannot draw a stick man.
Answer: Nope. All lessons are easy to follow in a friendly "draw along with me" style so you know just what to do! Just grab a pencil and follow Karen!
Question: How long do I have access to this course material?
Answer: You have lifetime access.
Question: Do I need any complicated or expensive supplies for this?
Answer: No. You can use what you have! If you WANT to buy EXACTLY what Karen is using, links are provided but it's 100% optional. Bring your favorite coloring supplies and you'll be set!
Question: I live in Australia, your lessons open in the middle of the night for me!!!! How can I watch them? Won't I miss out??
Answer: Nope. All lessons are made available at 8 a.m. ET but after they are released you get LIFETIME access so you can watch whenever it's convenient for you!
Question: If I can't make it to the live giveaway portion will I still be able to win a prize?
Answer: Yes! All you have to do to be eligible to win is to post your work for that day in the Facebook Group using #retroparty and winners will be contacted via email. You do not to be present to win.
Question: Are the videos downloadable?
Answer: Yes.
What current students say about Karen's teaching...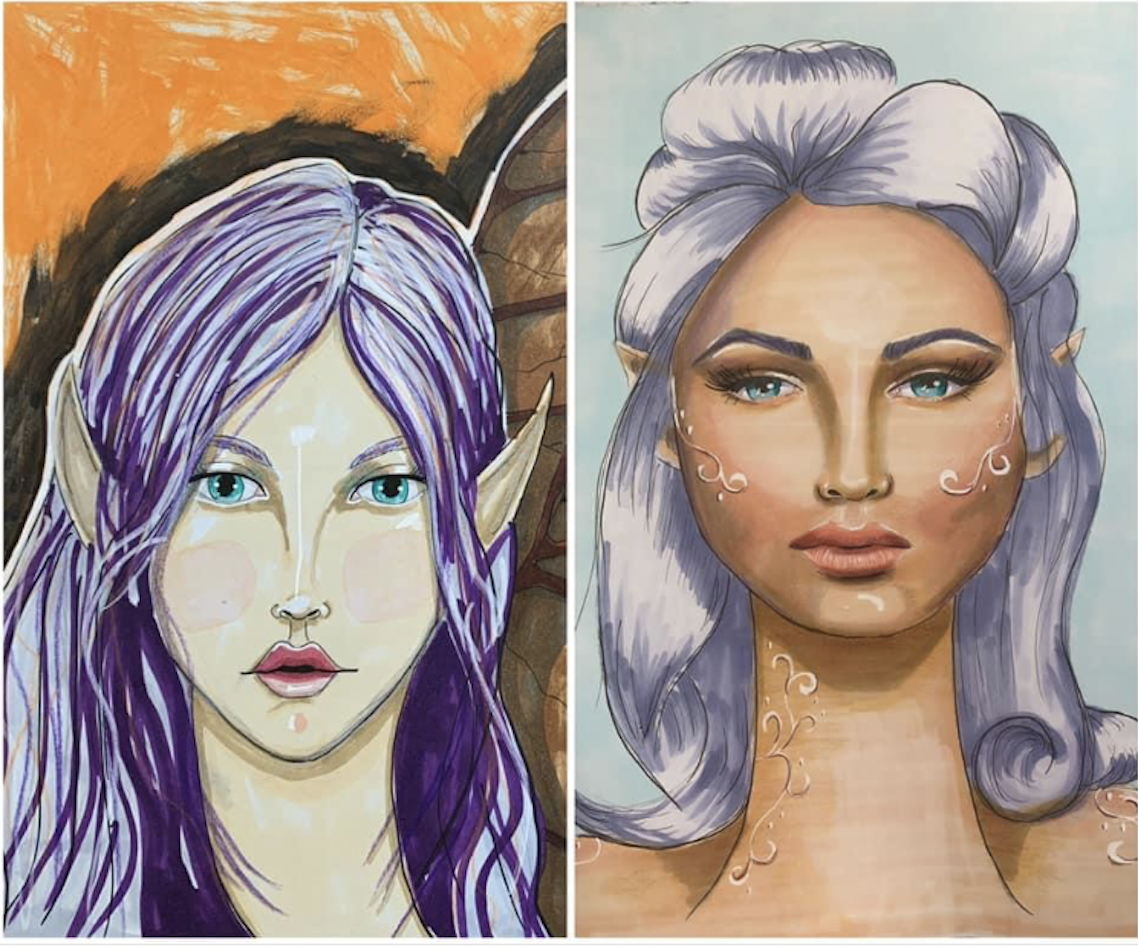 Bryn Nguyen
Then and Now...
"I would never be where I am today without Karen and Awesome Art School.
Never give up!"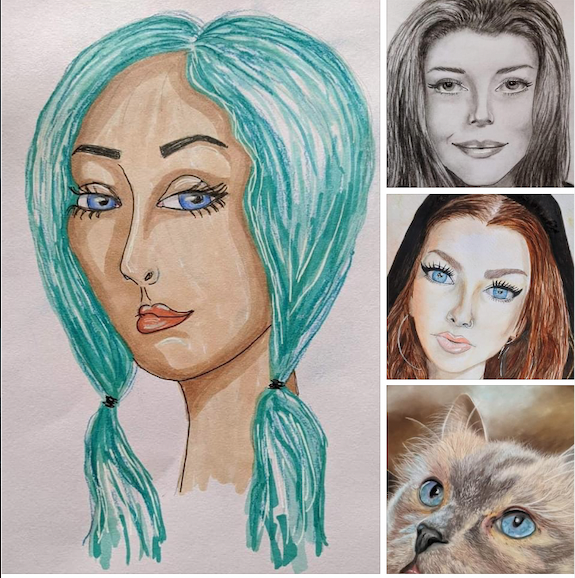 Sandi Gill
Then and Now...
"I joined Awesome Art School last year and it's been one of the best things I've ever done, especially looking at my progress.
Karen is a brilliant, fun teacher and I can't thank her enough."
(first face left, latest work pastel cat in lower right)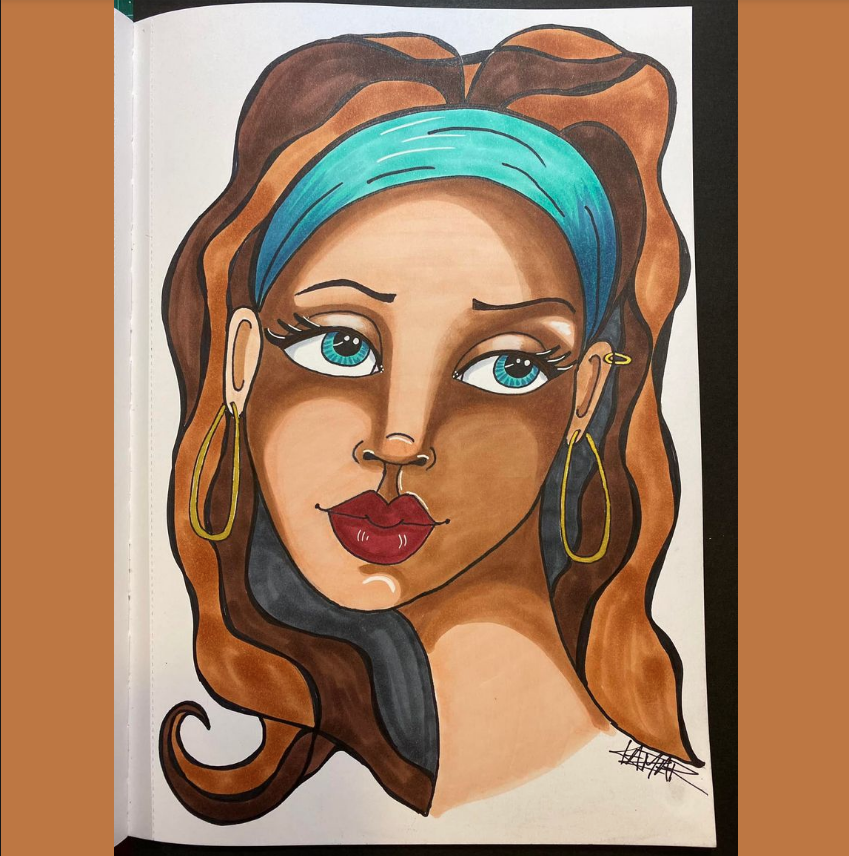 "Karen is such a wonderful teacher and I have only been drawing for 6 months and have come such a long way!"