Have Questions? Here are some answers to the most frequently asked ones that I get :)

Do you enjoy drawing and painting but are ready for a concentrated DOSE of FUN to kick-start your creativity?
In this fun 4 day party...er...WORKSHOP, Artist and Authors, Karen Campbell and Lucy Brydon, teach you how to draw and paint 6 different themed drawing and painting projects, from scratch - and with minimal supplies!
For newbies, this 4 day immersive experience is a great way to get started on your creative journey!
For experienced artists, this is a great workshop to help jog creativity, inspire you, and to learn expert ways on how to use references to create your own original art.
For EVERYONE - it's just plain old-fashioned FUN with creativity and daily prizes!!!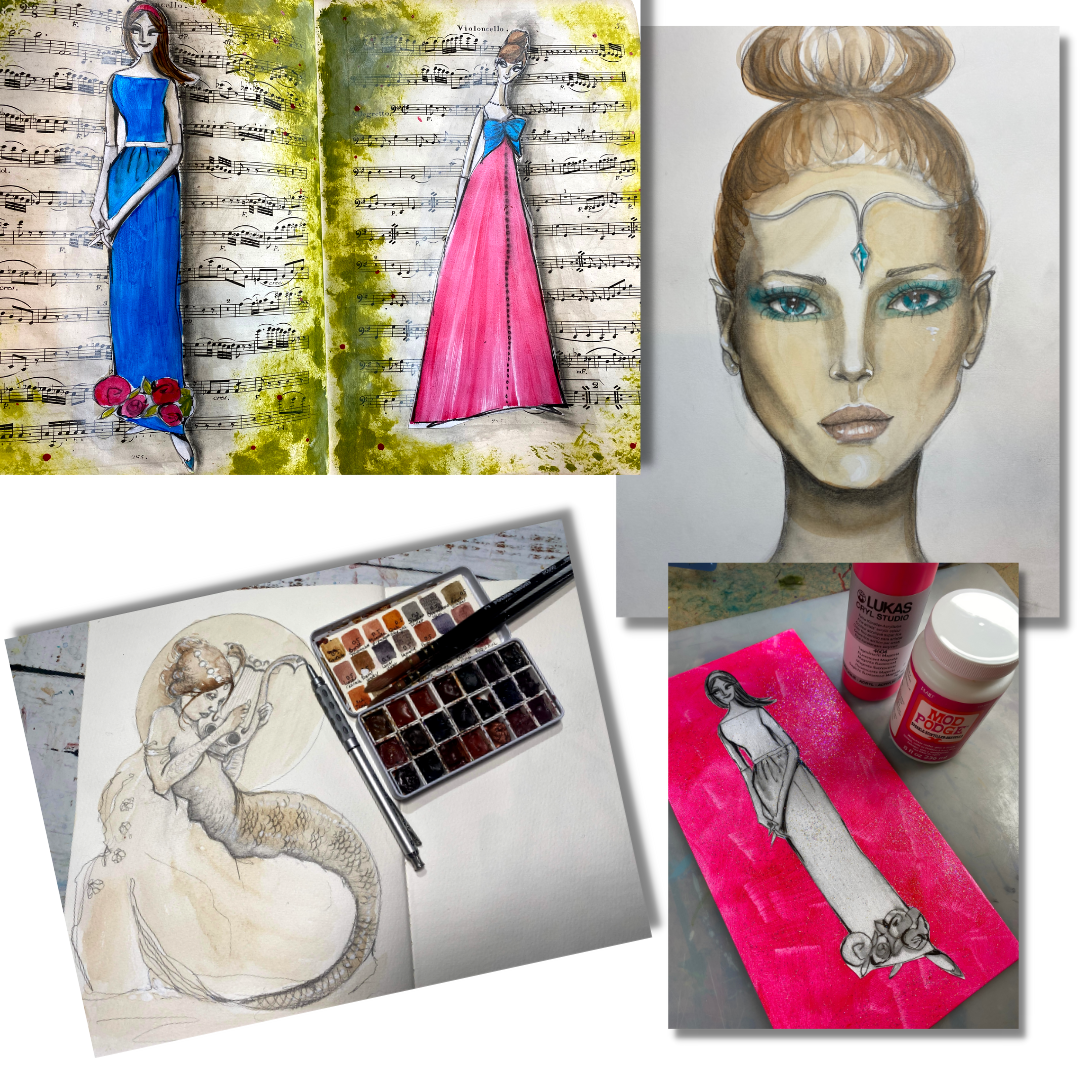 4 Days - 6+ Creative Projects...
all just for FUN!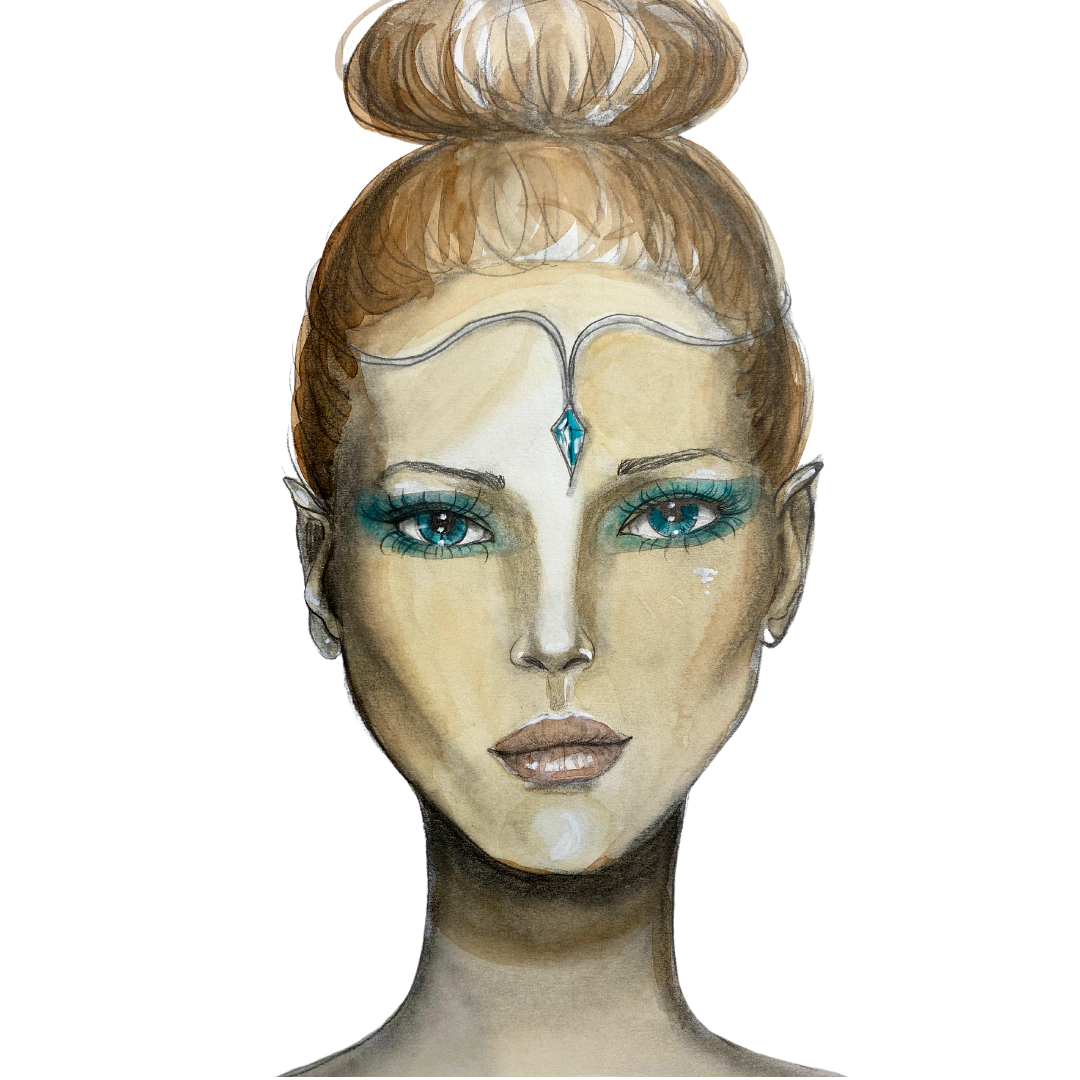 On Day 1 Karen will lead you step-by-step how to draw this Fairy Queen using only a pencil and a blending stump!
Then you'll learn the magic of what a light watercolor wash can do to bring your drawings to LIFE!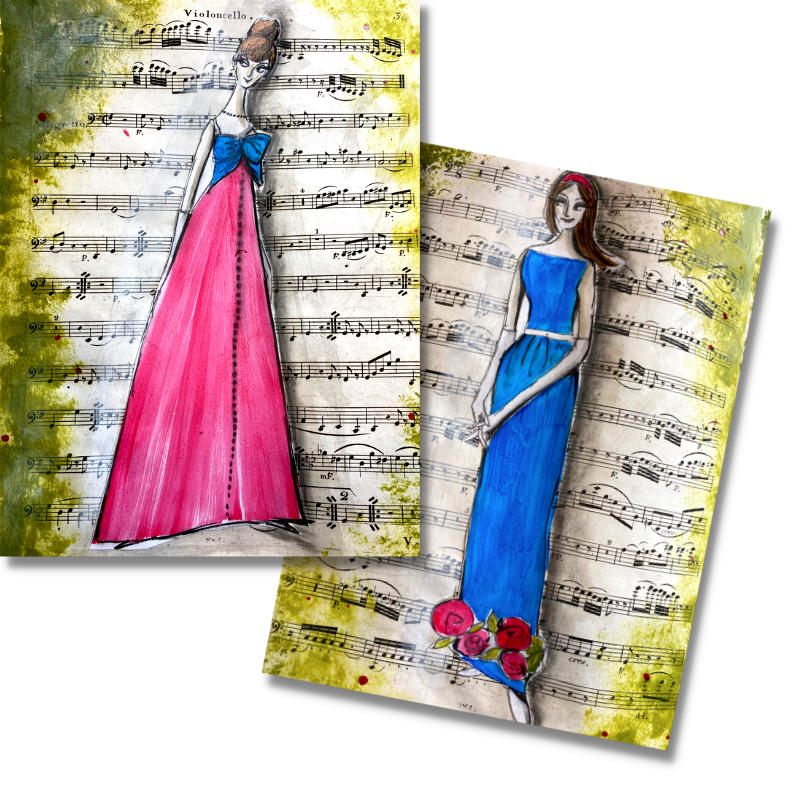 Karen teaches you first how to draw 2 fashion sketches!
On Day 3 she then teaches you 16 different Mixed Media techniques you can do to jazz up your sketches!
You can follow Karen's lessons EXACTLY (after all, that's what they're there for!) OR you can use the lessons you've learned to create your very OWN one-of-a-kind pieces!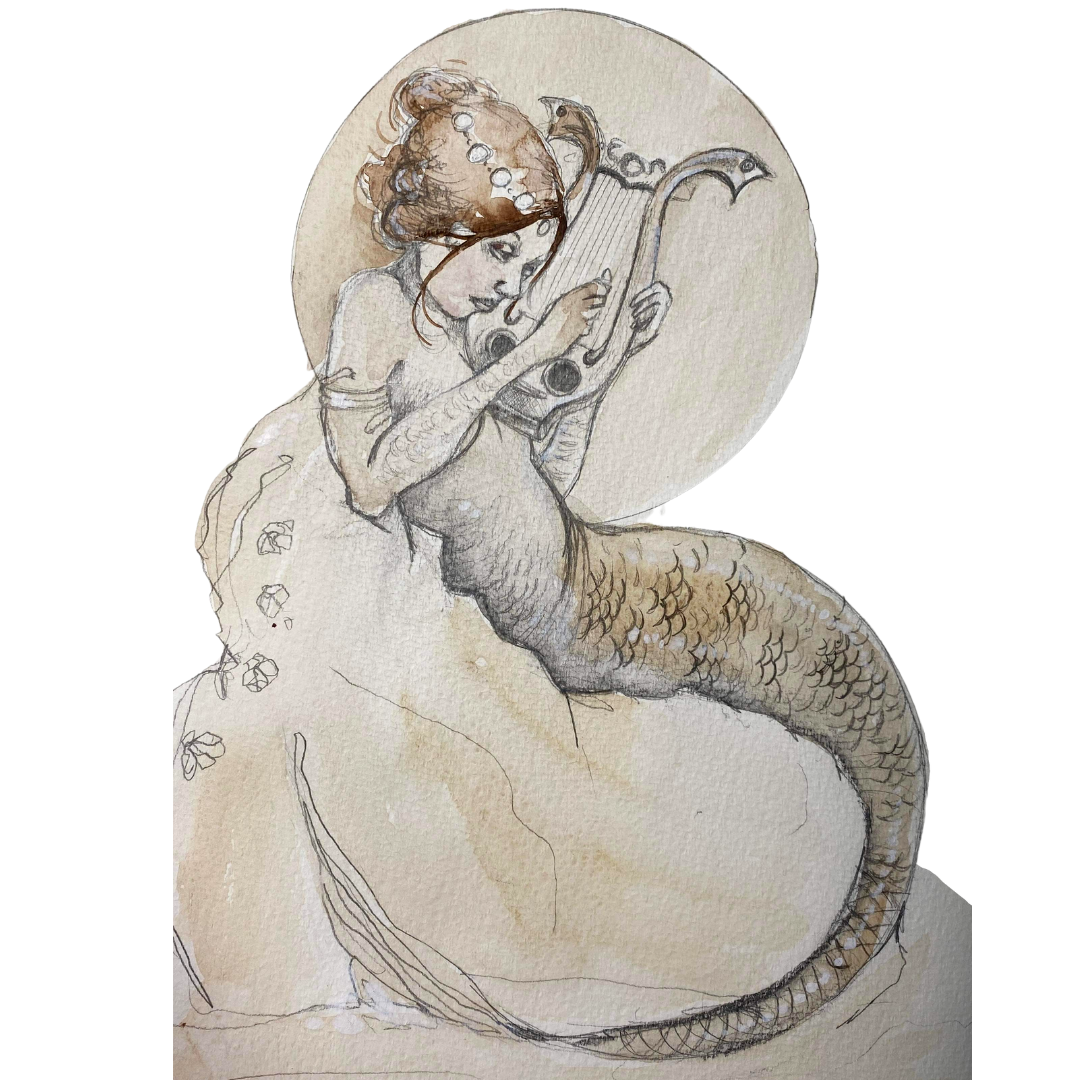 Karen will introduce you to Lucy Brydon! Lucy will walk you how to create this gorgeous mermaid, step-by-step!
At the end of the event, if you follow all the lessons, you'll have completed at LEAST 6 MASTERPIECES!!!

Not too much!
If you want to follow Karen and Lucy EXACTLY for all 4 days you'll need a pencil, watercolor paper (either hotpress or coldpress), a blending stump, some watercolors and a cheap fountain or felt tip pen or any water-soluble marker. It's also nice to have a white paint pen or white paint for highlights.
Completely optional mixed media supplies that are fun to use and you'll hear us mention are watercolor markers (like Tombows), acrylics and matte medium, Gesso and Sparkle Mod Podge and even ribbons! You can get as fancy schmancy as you like!!
Links to the exact supplies and colors are provided upon sign-up.
Please note that both Karen and Lucy are big fans of encouraging students to use what they ALREADY have on hand and love. There is NO pressure to buy.
At bare minimum, watercolor paper, a soft pencil and ANY coloring items will be GREAT!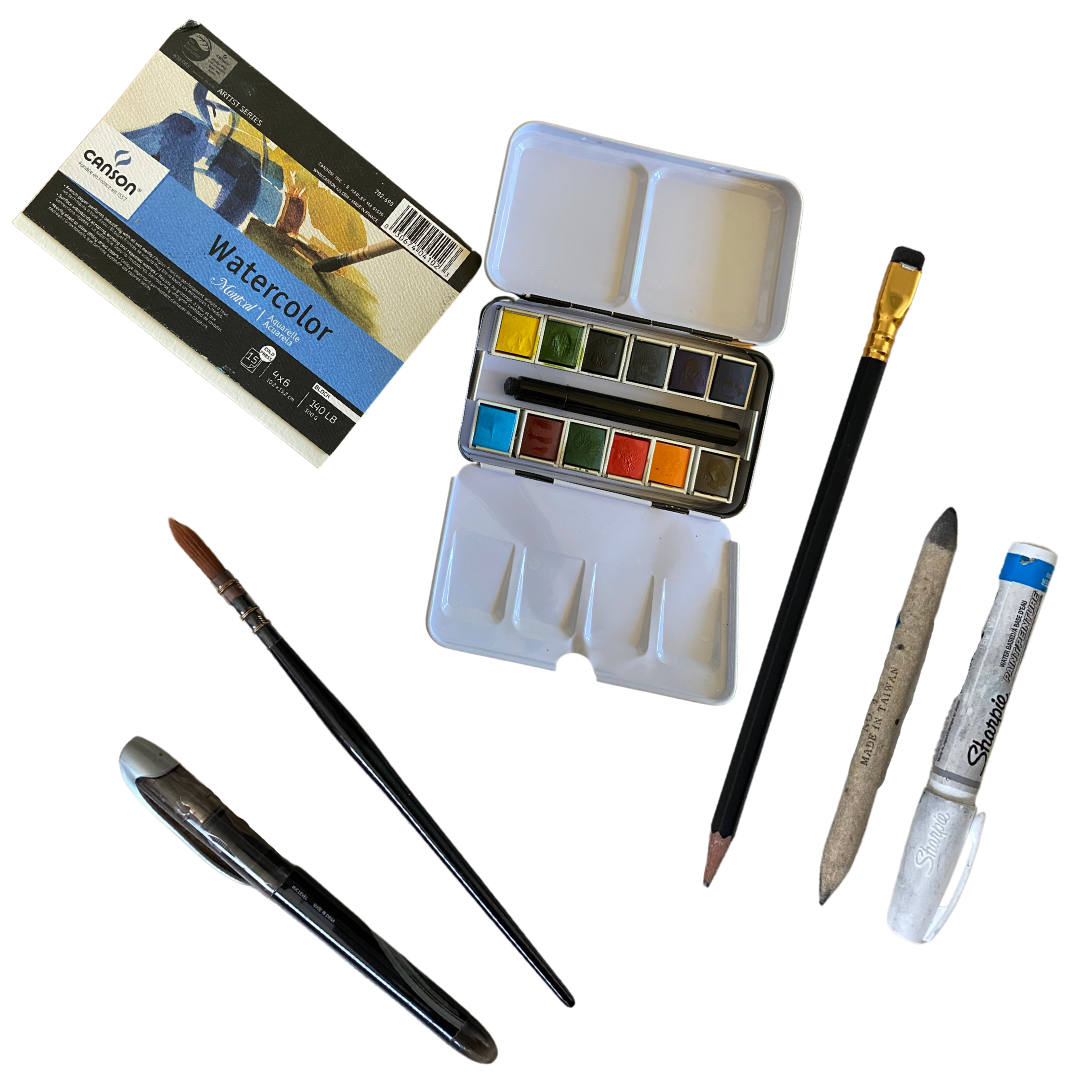 You can enter to win as many times as you wish!
To be eligible to win follow these steps:
(1) Open the daily email.
(2) Press play on the video lessons and follow along!!
(3) Post a photo of your good/bad/ugly in the Facebook Group.
(4) Use the secret party hashtag when you post!
Winners gets to choose their prize from a huge selection of books, t's, hoodies, pencils and totes!
ALSO: You do NOT have to be present to win. All winners will be contacted via email to arrange shipping :)
THIS IS NOT A CONTEST. Winners are chosen AT RANDOM. It all counts and it's all good my friends!!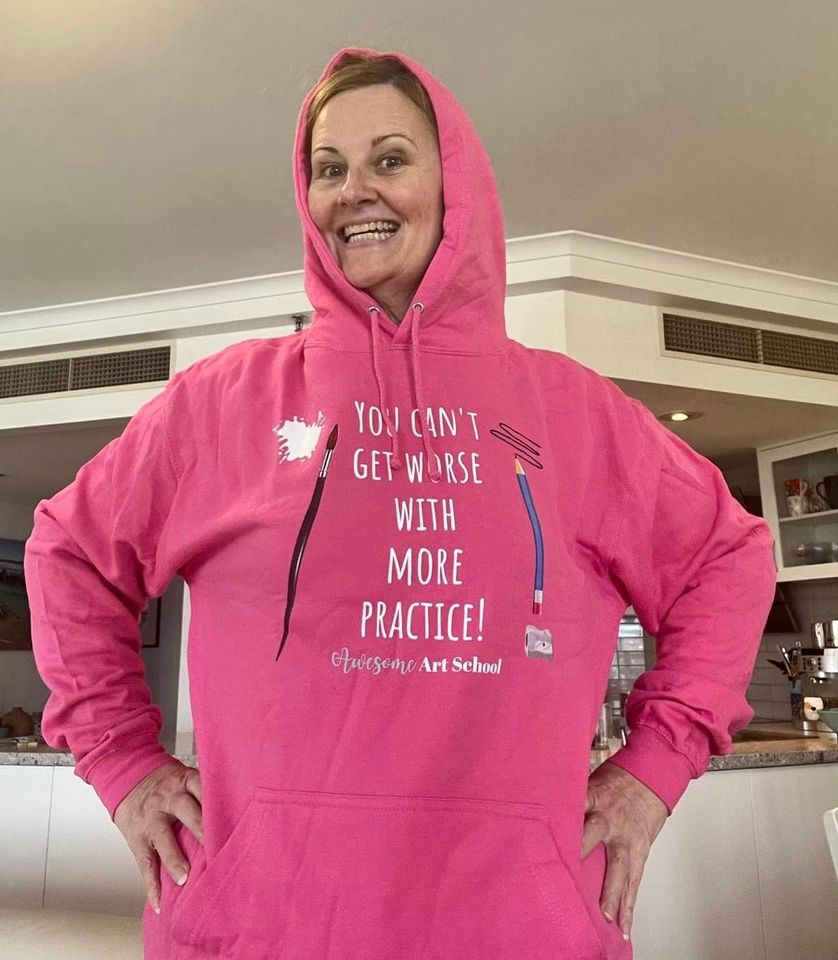 What others say...
About your Instructors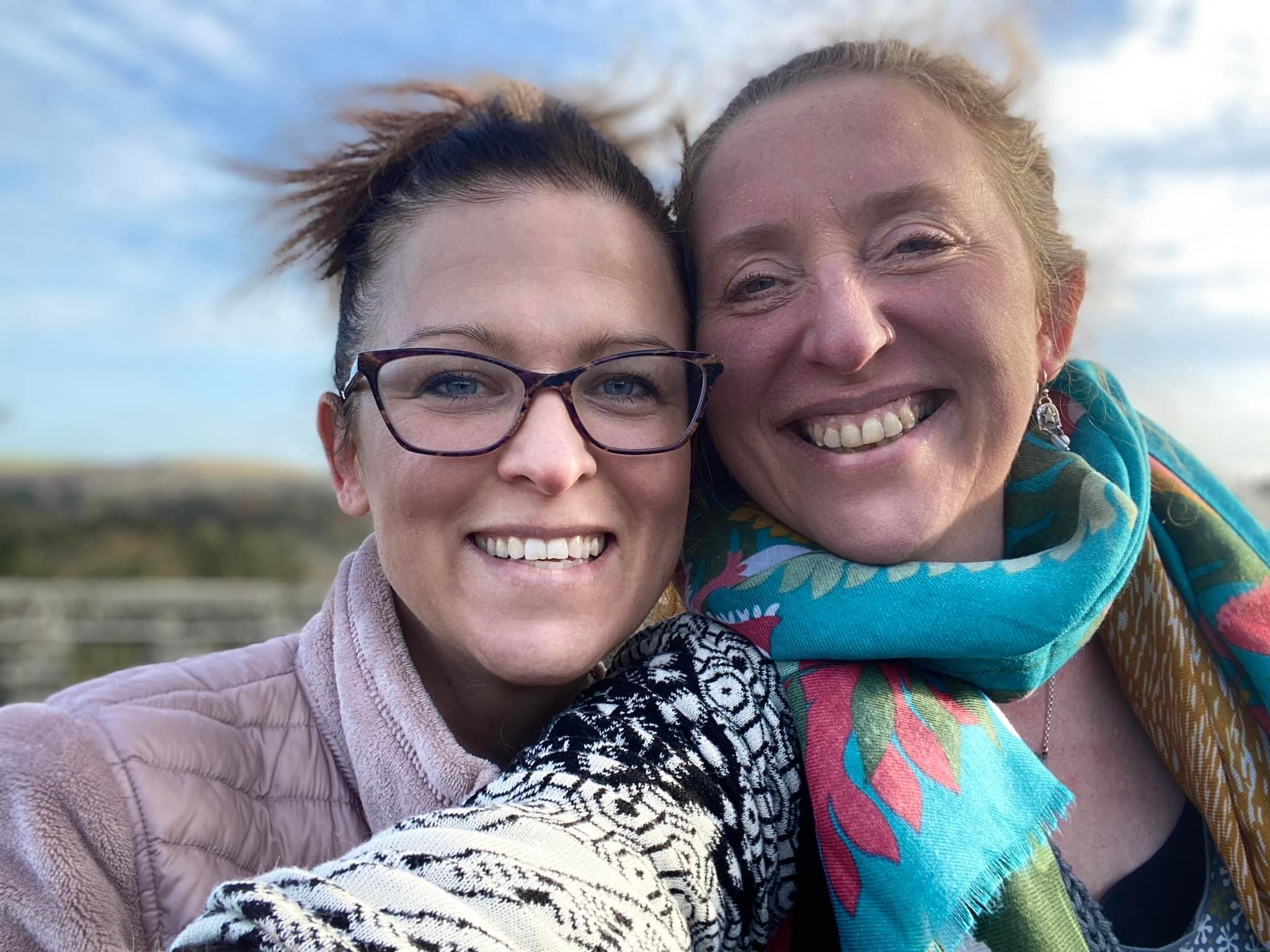 Karen Campbell is a full-time multi-media artist, instructor, business owner, author of 19 art instructional books, and has been featured in numerous worldwide publications.
Joining us from Scotland, Lucy Brydon has worked as a professional artist all her adult life and has been teaching both person and on-line for the past 20 years.
Both Karen and Lucy believe in fairies (for obvious reasons) and even have a ridiculous Podcast about it. Together they host yearly art retreats at various Scottish castles and run a mohthly Art Club at Awesome Art School called the Celtic Collective. In 2022 they released their first co-authored book, "How to Draw and Paint Magical Mythical Creatures".
When together, antics ensue and this week YOU'RE invited!

Frequently Asked Questions:
Question: Do I need to be able to draw to participate? I literally cannot draw a stick man.
Answer: Nope. All lessons are easy to follow in a friendly "draw along with me" style so you know just what to do! Just grab a pencil and follow Karen and Lucy!
Question: How long do I have access to this course material?
Answer: You have lifetime access.
Question: Do I need any complicated or expensive supplies for this?
Answer: No. You can use what you have! If you WANT to buy EXACTLY what Karen and Lucy are using, links are provided but it's 100% optional. Bring your favorite coloring supplies and you'll be set!
Question: I live in Australia, your lessons open in the middle of the night for me!!!! How can I watch them? Won't I miss out??
Answer: Nope. All lessons are made available at 8 a.m. ET but after they are released you get LIFETIME access so you can watch whenever it's convenient for you!
Question: If I can't make it to the live giveaway portion will I still be able to win a prize?
Answer: Yes! All you have to do to be eligible to win is to post your work for that day in the Facebook Group using #artparty and winners will be contacted via email. You do not to be present to win.
Question: Are the videos downloadable?
Answer: Yes.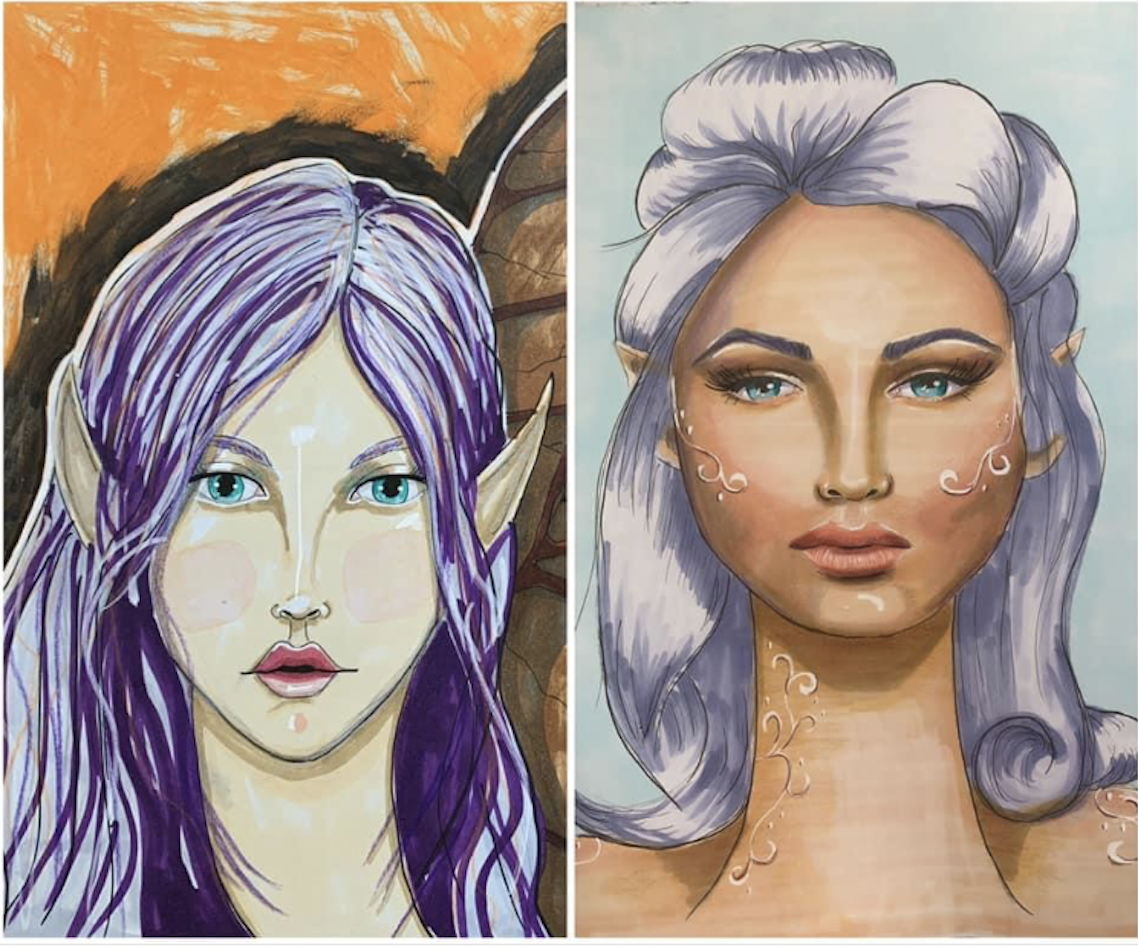 Bryn Nguyen
Then and Now...
"I would never be where I am today without Karen and Awesome Art School.
Never give up!"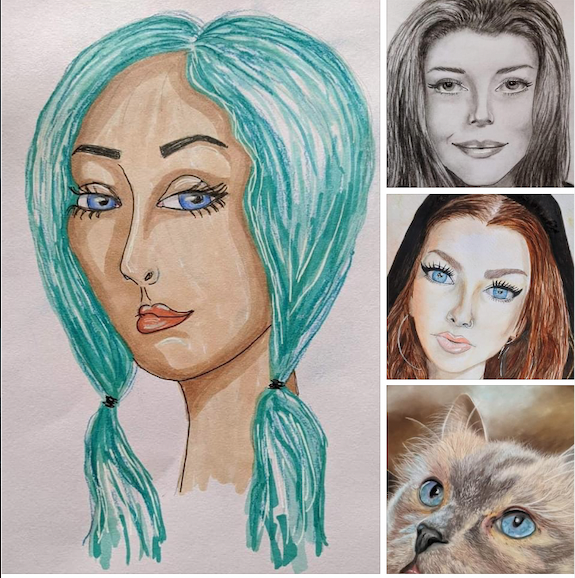 Sandi Gill
Then and Now...
"I joined Awesome Art School last year and it's been one of the best things I've ever done, especially looking at my progress.
Karen is a brilliant, fun teacher and I can't thank her enough."
(first face left, latest work pastel cat in lower right)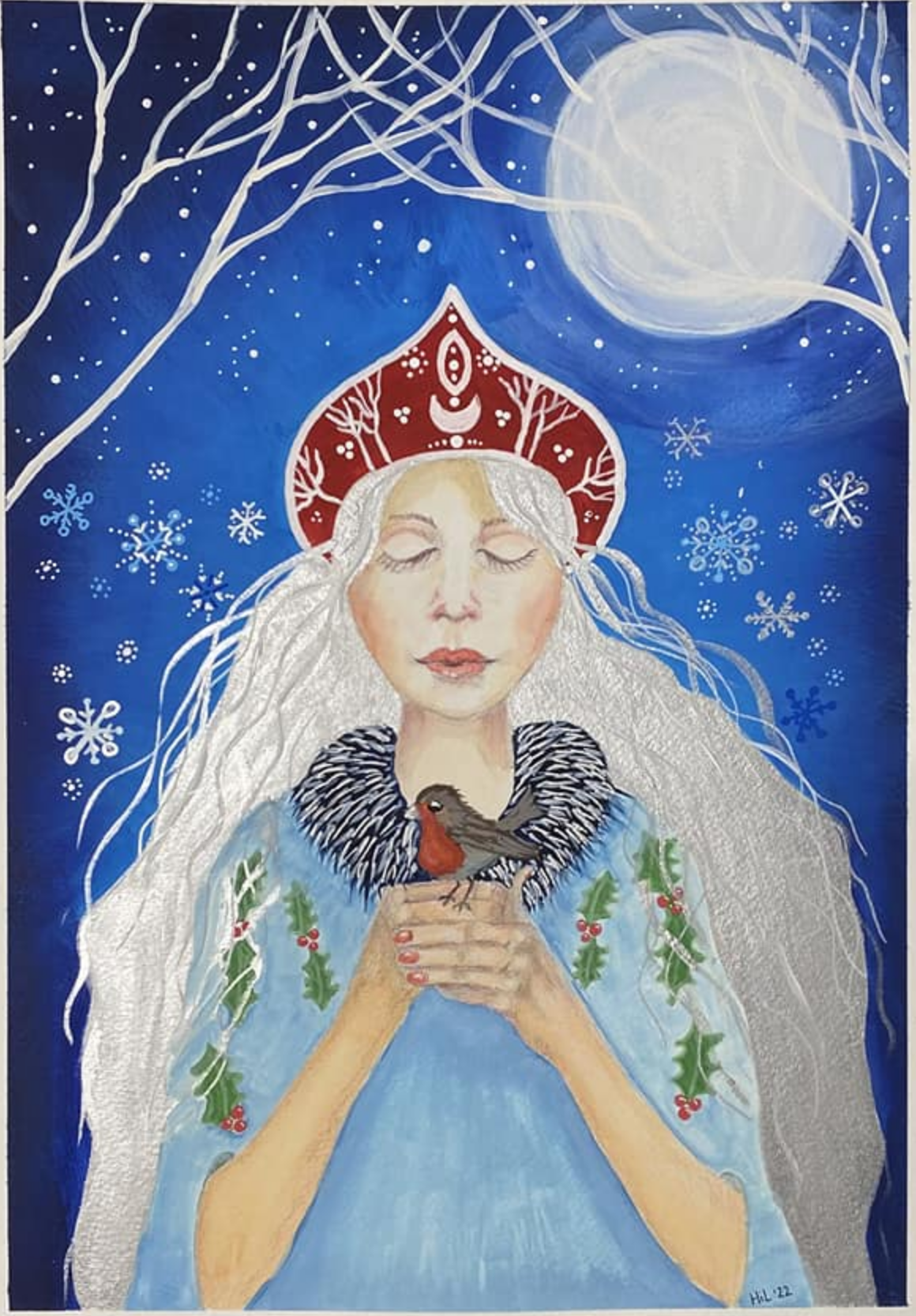 "Lucy made it really easy to create my version with her clear, step by step approach in explaining the techniques.
I really liked the pace of these lessons! I am so proud!"